If you have back pain, use only doggy sex position
Many people with back pain are afraid to have sex. But there is no reason to reduce sex. But don't try any sex position. You have to choose a position that is suitable for your health and physical strength.
For men with back pain, the most common missionary style will make the pain worse. For them, the doggy style is the best. If you do sex in the right style, it will be a good exercise for your back.
A new Canadian study in the Spine Journal shows that there are several advantages to convince your woman to sit down on all four.
Sex from the behind strains the back of men very little, says Dr. Stuart McGill of the University of Waterloo, Canada, who helped to conduct the study.
Read also: Women are not thinking about orgasm as much you do
Researchers have experimented with five sex positions on 10 heterosexual couples to observe which of them the best fit is for men with back problems. They studied men's movements in the lower back during the sex act – both standing and lying down.
The common form of missionary style is not good for men with back pain. The man should penetrate while standing behind the woman. It is important that your butts and knees instead of moving your back's movements during intercourse. Intercourse.
Read also: If you have back pain, use only doggy sex position
The Swedish professor of physiology, Karin Harms-Ringdahl, thinks the Canadian study is important, but she thinks the women need to be involved.
Firstly, women have as many problems with the lower back as men. Probably, the man's weight on top of the woman causes pressure on the lower back of women. Women also have to find the doggy position really helps women with back pains, too.
The doggy position also helps women with back pain but it is important to support herself with her hands instead of coming down to her elbows.
If a woman feels uncomfortable with sitting on all four because of obesity, the Fan sex position could be a good alternative.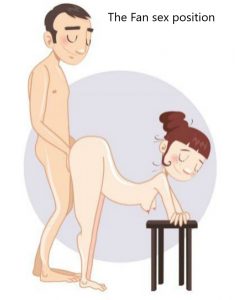 The woman bends over and supports on a chair or tool and place butts upward. It is convenient for the man to penetrate from behind. This helps back pain