The Japanese penis size is the same as the world's average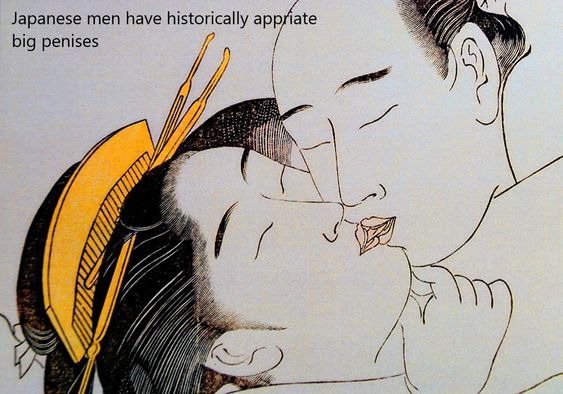 The average penis size of Japanese males is 13.56 centimeters (5.3 inches) in length and 3.53cm at the head and 3.19cm at the shaft in diameter according to The Tokyo Reporter. They claim that the survey has been conducted among 500,000 males. The diameter 3.53 cm means the girth is approx. 11 cm (4.3 inches)
If this information is true, then Japanese males rank the best in Asia in the penis size. A leading Japanese sex toy maker Tenga claims that Japanese men have beaten American men in the penis size. They wrote on their website that Japan could not beat USA by the number of Olympic medals but Japanese men have beaten USA in the penis size.
But even the statistics are correct, Japanese men still lag behind American men. The average penis size of American males is 14.2 centimeters (5.6 inches) according to a reliable medical survey. The average penile girth is 4.8 inches (12.2 cm).
These statistics made by The Tokyo reporter and Tenga is inconsistent with other worldwide data of penis size. The penis size is the most relevant for condom makers. According to data of Durex condom, the average length of Japanese penis is 12.6 centimeters (5 inches) and the girth is 4.53 inches.
There is no scientific survey available for the Japanese penis size. If we take an average of several surveys, the average penis size of Japanese men is 5.1 inches in length and 4.5 inches in girth. This size is the line of the world's average.
Read also: Exercise causes shrinkage of the penis
Japanese men have been very concerned about their penis size for thousands of years. Historically, Japanese men admired big penises. In traditional Japanese erotic arts show that the genitals as exaggeratedly large, according to Wikipedia. Old erotic paintings are found in Japanese cities Horyu temple which are 1500 years old
Japanese young men measure their penises often. They don't follow the real procedures which give wrong measurement results.
Read also: How safe is herbal viagra?
The British Newspaper reports interesting news, "Over in Japan men are getting wise to a seemingly handy way to evaluate the size of one's penis: sticking a said penis in the cardboard inner tube of a toilet roll."
Anyway, the Japanese penis is bigger than their Korean neighbors. Their penises are not that big as their traditional erotic picture but the size is quite reasonable.